Pet insurance, just like people health insurance, can help cover the cost of medical care in the event of unexpected health issues or accidents that may not have been affordable otherwise. If your pet becomes ill or injured, you will not have to base your decision for treatment on the cost of veterinary care, but on providing the best treatment necessary for health and healing.
Nearly 90% of pet owners say their pet is a member of the family and not just property. Over two-thirds of pets are allowed to sleep in bed with their owners and more than half receive presents at holidays.
The benefits of pet insurance include both financial protection and emotional comfort for the pet owner. When unforeseen health issues or accidents happen, having your pet insured will prepare you for any health related emergency or unexpected illness. It may also prevent you from having to choose between spending a great sum of money or euthanizing your pet. It will allow you to choose care based on need rather than on affordability.
How Pet Insurance Works
Pet insurance has been available for 15 to 20 years and is set up in a way that is very similar to other types of insurance. You select an insurer and plan, make monthly premium payments, have plan deductibles, co-pays, and annual limits, and submit claims for reimbursement of veterinary care.
With most pet insurance policies, if the pet becomes ill or injured and veterinary care is provided, it is the responsibility of the pet owner to pay the veterinarian bill. Then, a claim form is filled out and submitted to the insurance company for reimbursement of the pet care expenses.
The insurer processes the claim and then issues a check to the pet owner for the applicable amount. Reimbursement amounts are based on the policy terms and conditions, including the deductible amount, co-pay amount, annual limits, and schedule of covered benefits.
Percentage of Households with Cats & Dogs

Source: American Pet Products Manufacturers Association (APPMA) 2007-2008 National Pet Owners Survey
Pet Insurance – Covered Treatments
The treatments that are covered by pet insurance are different from company to company as well as between plans that vary from basic coverage to comprehensive coverage. Most pet insurance plans cover only veterinary costs that result from an accident or illness, although some insurers also offer policies that include routine care and preventive treatment. It is important to understand your options and the type of coverage you are purchasing.
Treatments that are covered by most pet insurance plans include:
Initial and follow-up visits to the veterinarian for illness or injury
Laboratory tests and diagnostic procedures, such as ultrasounds, X-rays, CAT scans, MRI's, and blood tests
Non-elective surgery
Hospitalization
Anesthesia
Prescription medication
Euthanasia for humane reasons
Pet Insurance – Limitations and Exclusions
When comparing pet insurance plans, check for policy exemptions and limitations. Insurance policies will not cover every situation or expense that may occur, but there are differences between companies and plans. Coverage may also be limited by breed (genetic traits) and pre-existing conditions. Some covered expenses may be subject to a waiting period.
It is also common for most routine care items to be uncovered expenses, although some policies may provide a fixed amount back for certain preventive care treatments such as vaccinations or deworming. Some health plans may even require annual check-ups and vaccinations to remain covered, even if they are not covered benefits.
Conditions or treatments that may not be covered include:
Routine care and well pet visits to the veterinarian
Vaccinations
Deworming
Dental care and dental diseases such as gingivitis
Pre-existing conditions
Chronic illnesses lasting more than one year
Genetic testing and conditions
Cosmetic procedures such as tail docking and ear cropping
Alternative therapies such as acupuncture or holistic treatments
Organ transplants
Although pet insurance plans may not cover certain items in full, some policies provide an allowance or partial reimbursement towards items such as prescription food, recovery costs, as well as boarding and kennel fees.
Compare Pet Health Plans
Health plans and prices vary widely, so it is worthwhile to review your options before making a selection. You will find that pet plan eligibility is often based on your pets breed and age with varying levels of coverage and cost.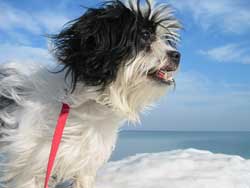 Some pet plans are comprehensive and provide coverage for items such as annual check-ups, vaccinations, spaying or neutering, accidental death benefits, and even lost pet rewards. Other pet insurance policies cover only accidents and illness.
There are about a dozen pet insurers in the United States with a variety of health plans for dogs and cats. The availability of options allows you to compare pet insurers and the various pet programs and choose the best health insurance plan for your budget and your pet's needs.
Pet Insurance for Dogs
We love our dogs and want to take care of them the best we can. We provide warm and comfortable shelter, nutritious dog food, and clean water. We throw the ball, go for walks, and scratch behind the ears. We take them to the vet for check-ups and shots. If you are like most dog owners, you consider your dog to be a true companion or family member.
The life span of the average dog is 12 years or more, but varies depending on the level of care , breed, and body size. Typically, smaller dog breeds live longer than larger dog breeds.
Even with your best efforts to keep your dog safe and healthy, however, unexpected events happen. Illnesses, accidents, and injuries can happen quickly and without warning. If your puppy is hit by a car or your dog develops a chronic illness, dog insurance can help you provide the necessary veterinary care to return your pet to health and extend life.
Dog Insurance Coverage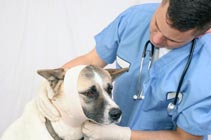 Dogs of all ages – puppies, adult dogs, and mature dogs – can become sick or injured and require veterinary care. Pet insurance will help you afford the expense of veterinary treatment.
When shopping around for dog insurance you have many options and need to consider what type of coverage you want to purchase.
Types of coverage:
Accident
Illness
Routine Care
Accident Coverage
Insurance coverage for accidents is the most basic and affordable type of pet insurance. Most dogs qualify for accident coverage, regardless of breed, age, or health conditions.
Some of the covered types of dog accidents include broken bones, burns, insect bites, bee stings, poison ingestion, lacerations, and injuries resulting from falls and car accidents.
Find out under what conditions coverage can be denied. Some policies exclude breed specific accidents (dog bites for aggressive breeds) or preventable accidents (not following a leash law).
The veterinary expenses that are typically covered for accidents are emergency care, surgery, diagnostic tests, X-rays, hospitalization, treatments, and prescription medication.
Basic Annual Expenses for Dog Owners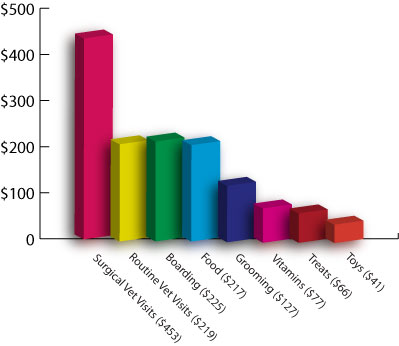 Source: 2007-2008 APPA National Pet Owners Survey
Illness Coverage
Many pet owners choose to insure for illness as well as for accidents. Many dogs qualify for illness coverage, but some dogs may not due to age or breed. Eligibility and covered conditions varies between companies, especially for breed specific hereditary health issues.
Some common illnesses which occur in dogs are allergies, asthma, arthritis, bone and joint issues, cancer, canine epilepsy, cruciate ligaments (knee injury), ear infections, eye disorders, gastro-intestinal problems, heart disease, hip dysplasia, patella luxation (knee injury), skin problems, thyroid disease.
Be aware that illness coverage may be denied for preventable illnesses. Make sure that your dog gets the recommended vaccinations to prevent some of the more common dog diseases. If you don't vaccinate your dog and it comes down with the associated illness, coverage may be denied for the related veterinary care.
The veterinary expenses that are typically covered for illnesses are veterinary care, diagnostic tests, hospitalization, treatments, and prescription medication.
Routine Care Coverage
Coverage for routine (wellness) care is an option for dog owners who want more comprehensive insurance coverage. Wellness care coverage typically includes annual check-ups, vaccinations, heartworm tests, spaying or neutering, and routing dental care (tooth cleaning). Not all insurers offer routine care coverage and with some insurers the option will vary by state.
Cost of Dog Insurance
The average cost of dog insurance is around $25 per month, although your specific policy may be more or less than the average due to the breed of your dog, the age of your dog, where you live (state or zip code) , and the amount of coverage you get.
The more comprehensive the coverage you get, the higher the premium will be. If you want to keep the premium low, opt for accident only coverage and a high deductible. Adding illness coverage is the next step in pet plan benefits, but it will raise the premium as well. The most expensive pet plans are those that cover routine care and wellness visits.
Some of the discounts that apply to pet insurance rates are given if your dog is microchipped and spayed or neutered.
Choosing a Dog Insurance Plan
When comparing insurers and dog health plans, consider the following:
The age of your dog – what ages are accepted, do premiums rise with age
The breed of your dog – some breeds may not be accepted, some breed related conditions may not be covered
The type of coverage – accident, illness, or routine care
Are there deductibles and co-pays?
Are there limits per incident, per policy period, per pet, per lifetime?
How is reimbursement calculated – a percentage of vet bill or rate schedule?
Does your dog have a pre-existing condition? They are often not covered.
Are hereditary conditions covered? This varies by insurance company.
Is pregnancy covered?
Are prescription drugs covered?
What is the waiting period for illnesses? For accidents?
What conditions are excluded from coverage?
What is cancellation policy? If you cancel? If insurance company cancels?
Each pet insurer has different rules and guidelines so it pays to shop around and compare the various companies and pet plan options. Finding the right plan for you and your dog will help you provide veterinary care for your dog when it is needed at a price you can afford.